Sponsoring with SJSHRM
Are you looking for a way to make your marketing dollars go farther? Are you interested in reaching human resource professionals from more than 200 companies – all in one place? If so, becoming a sponsor or advertiser with San Joaquin SHRM is your answer!
San Joaquin SHRM proudly represents over 250 HR members in the Stockton area. Our Chapter has a growing membership of human resource professionals representing a variety of industries, company sizes and needs throughout Stockton and the surrounding areas.
San Joaquin SHRM relies on its valued sponsors to be able to provide our members with such an extensive list of programming and events. We greatly appreciate their commitment to this organization and our members, and value the relationship we have formed with each and every one of them. We hope that you too will join us as a valued sponsor, please review the opportunities and reach out with any questions to info@sjshrm.com.
Benefits of Sponsoring
Generate new leads & open doors
Build brand awareness for your organization
Position yourself against your competitors
Enjoy powerful advertising & media exposure via our website & social media pages
Gain access to our relevant, targeted audience
Annual HR Conference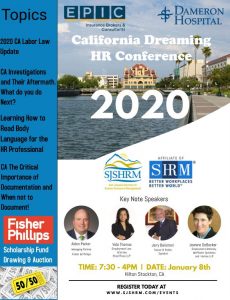 Event Sponsorships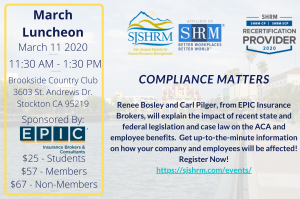 Interested In sponsoring? Let us know!