Professional, Dedicated, Caring
The San Joaquin Society for Human Resource Management is committed to advancing the Human Resources profession and serving the human resources professional in our territory through education, professional leadership development and organizational values, supporting our dedicated, caring, service-oriented and collaborative culture.
President's Message
I would like to personally welcome you to the San Joaquin Society of Human Resources Management (SJSHRM). It is my privilege to serve as your President from 2023-2025.  I am excited about the changes in our field as we serve as organizational leaders and change agents for a better workplace.
SJSHRM is pleased to serve the needs for ongoing HR professional development in the Central Valley. Locally, we provide regular meetings, webinars, and services unavailable from any other source. Membership in both the local chapter and National SHRM assures you opportunities to stay ahead of our rapidly changing field. Our local chapter has more than 200 members and SHRM has more than 315,000 members
We are a 100% SHRM Chapter which means we do not charge any dues or fees for membership so long as you are a National SHRM member. Joining SJSHRM is more than a membership, it's a partnership. Our mission as an organization is to further the professional growth and development of our members and to provide a forum through which they can exchange ideas on problems facing human resource professionals in the community. We continue to filter our initiatives with the goal to be the best local HR resource for you and your organization.
If you have any questions, feel free to reach out to any one of our board members. I hope to see and meet you at one of our monthly meetings or annual conferences, which can be found on our events page.
Sincerely
Kris Gaskins
The San Joaquin SHRM Board is dedicated to providing HR professional Recertification credit opportunities throughout the year. Look for the Recertification Logos shown below on event announcements & join us as we expand our HR knowledge together!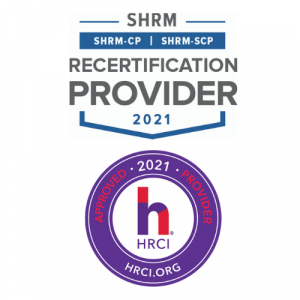 Member Area
Upcoming Events
San Joaquin Society For Human Resource Management
Membership in SJSHRM  is simple. Members must be current SHRM members & provide their SHRM member ID on their application.
That's all there is to it!
Member Benefits
Exclusive SJSHRM forum and blogs coming soon!
Substantial SJSHRM member discounted pricing for all SJSHRM services, meetings and events